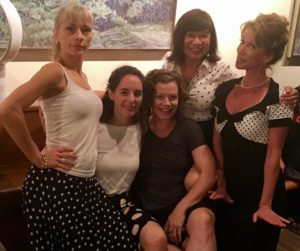 It's been a busy summer in the Alive Tango Victoria scene!
LEARNING
We enjoyed return teacher visits from Julia and Jonatan, Monica and Jorge and Carol Horowitz. Many of us took advantage of multiple classes, private lessons, special events up-island or on Salt Spring Island, and some even ventured over to Vancouver for more!
Several of us now know how to dance Chacarera, thanks to Julia and Jonatan and to Cathy and Yves for opening up their home studio for our lesson.
Alive's cooperative teach team offered 4-week beginner class sessions in May, June, July. We have heard about the benefits of changing up the teaching partnerships week-to-week to offer different tango perspectives and approaches, so we intend to continue with this format. Our next beginner tango session will start up again on October 1st– please spread the word! Sundays, 7 – 9pm. $60 for four 1-hour beginner classes plus a 1-hour practica on Sundays INCLUDING free entry to our Tuesday evening practicas!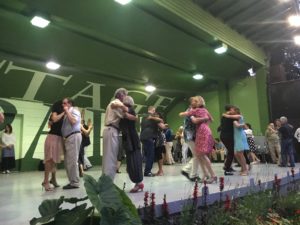 TANGO IN BEACON HILL PARK
We also offered 4 FREE beginner classes and milongas in beautiful Beacon Hill Park this summer, sponsored by the City of Victoria. The July and August editions continued the party after the Park in Martin Batchelor Gallery, with snacks, wine and dancing in the windows. Our final tango in the park took place on Sept. 9 with DJ Helen capping off our summer. We are grateful to DJs John Dewhirst, Homi Bavadavam and Jud Martell from Vancouver for making these evenings so lovely, keeping us dancing end-to-end.
LAS MUJERES TANGO MARATHON, SEATTLE
Four Alive community members represented Victoria at the unbelievably lovely Las Mujeres Tango Marathon in Seattle in mid-August. Organized by women, DJd by women with plenty of room for role-switching, this was a truly unique experience and Victoria was well-represented along with friends from Vancouver, Whidbey Island, San Francisco, Houston, Minneapolis, Portland, Montreal, Las Vegas and beyond!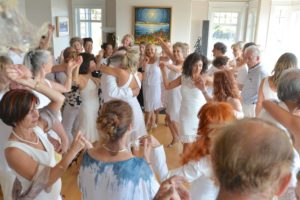 TANGO ON THE ROCK
We danced delightfully at the magnificent home of Cathy and Yves in Esquimalt, with most of us dressed in white. With three outdoor dance floors beside the ocean, plus one indoors and two DJs– John and Yves– we danced non-stop. We also celebrated long-time community member Frank's birthday with multiple valses.
WHAT'S NEXT?
Thanks to all of you for coming out to make Alive so ALIVE! We will be squeezing out the final weeks of summer with another Connection class with Carol Horowitz on Tuesday August 31 and our weekly Tuesday evening practicas and technica classes with Tracey.
What would you like to see happen in the Fall at Alive? Let us know!