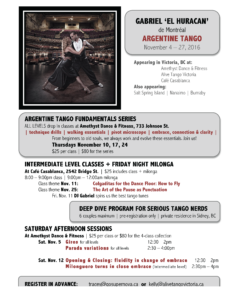 El Huracán returns!
After visits in June and September of this year, Gabriel "El Huracán" Gaumond returns this November with a series of workshops for all levels.
Contact Tracey (tracey@gosupernova.ca) or Kelly (kelly@alivetangovictoria.ca) to register for courses or for more information.  Please also contact Tracey or Kelly to schedule any private lessons with Gabriel as well.
More information about Gabriel and his partner Melanie can be found here: melgabtango.com.
Consult the calendar below to reserve the dates for opportunities to learn from Gabriel.
This visit he will help you to get closer to mastery, offering us more time to integrate the concepts he brought in June and September.
Go deep. Expand large
Upcoming Workshops with Gabriel: