An Encore before Italy:
Jorge Olguin returns to Vancouver Island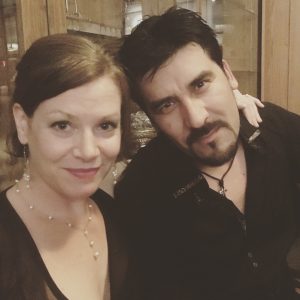 Presented by Alive Tango Victoria at Martin Batchelor Gallery 712 Cormorant St.
www.alivetangovictoria.ca
Sunday Feb. 18, 2018
$20 per class or 3 for $50
3:00 – 4:15pm Tecnica Boot Camp (all levels)
4:30 – 5:45pm Embrace the space: inner & outer circles of the embrace (all levels)
7:00 – 8:00pm The Cross (beginner level)
8:15 – 9:15pm Creative Crosses (intermediate to advanced level)
Tuesday Feb. 20, 2018
$25 includes practica entry
6:00 – 7:15pm Cadenas: elegant walking patterns for the social floor (all levels)
7:00 – 9:00pm Alive Tango Practica
Saturday Feb. 24, 2018
Los Amigos del Tango Milonga | 111 Superior St.
7 – 8pm Tiny Steps to Dance the Piano with Biagi (all levels)
8pm – 11:30pm Milonga | $25 class + milonga | elegant dress | codigos observed
Sunday Feb. 25, 2018
$20 per class or 3 for $50
12:00 – 1:15pm Milongaaaaa (all levels)
1:30 – 2:30pm Sacada possibilities (all levels)
Tango del Domingo Milonga | Duncan Showroom | 3 – 6pm | 2nd Anniversary Celebration
7:00 – 8:00pm Beauty in simplicity: putting together what you know (beginner)
8:15 – 9:15pm Foot games: playing with connection in the feet (all levels)
Tuesday Feb. 27, 2018
$25 includes practica entry
6:00 – 7:15pm More milonga (all levels)
7:00 – 9:00pm Alive Tango Practica
Sunday March 4, 2018
$20 per class or 3 for $50
3:00 – 4:15pm Lyrical moments & the follower's free leg (all levels)
4:30 – 5:45pm Leading ladies: followers learning to lead (all levels)
7:00 – 8:00pm Your first tango steps: 4-week session opener (beginner)
8:15 – 9:15pm Community class: we ask for it, Jorge teaches it (all levels)
Semi-private & private lessons with Jorge are also available!
To book, please contact tracey.peever@gmail.com
In Duncan:
Semi-private & private lessons available on Thursdays February 22 and March 1, noon – 7pm
Please contact Katharina Dittus at katharinadittus@gmail.com to schedule.
In Nanaimo: Semi-private & private lessons available by request. Please contact Katharina Dittus.
JORGE OLGUIN
A tango dancer, choreographer, teacher, competition judge and director
of "Unidos pore el Tango" ballet academy, Jorge is becoming a favourite
repeat visitor to Vancouver Island. Students will remember Jorge as an
encouraging and highly observant teacher, focused on a comfortable
embrace, steady balance and clean technique, with a wicked sense of
humour. He is influenced by many remarkable teachers, including
Natacha Poberaj, Javier Rodriguez, Sonia Peralta, and Carlos Copello.
He has partnered with Monica Parra for two tours in 2016 and 2017.
This will be Jorge's second visit to partner with Tracey Peever, currently teaching at Alive Tango Victoria. Tracey is a former yoga teacher from Montreal, and offers tango with attention to breath, energy, connection and postural refinement. Her most influential teachers include Marika Landry, Mauro Peralta, Tomas Howlin, Ney Melo, Virginia Pandolfi & Noelia Hurtado.